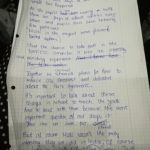 It was time to close the three day lasting MUN event. For this reason hundreds of delegates gathered in the new auditorium of our partner school waiting for the final MUN ceremony. Kathak dancers, Yoga students and real diplomats were announced to be part of the well balanced program.
And in the midst of all one German students was anxious to be called on stage to share his thoughts about the whole event.
Jakob Schweiger, a participant of our exchange project volunteered for holding a speech and you can imagine how frightening an international audience full of diplomatic experts can be for a 15 year old student.
But his voice didn't shake when he startet his speech and when he won the hearts of all by calling India "a second home". Continue reading "Transcript and video of Jakob's moving speech at the MUN"